The correspondent clearing industry is controlled by large legacy providers, known for outdated technology, inflexible procedures, and insufficient support. However, the disruption involved in disconnecting from an old solution and integrating a new one often results in paralysis for many brokers. RQD, which spun out of an established market maker in 2020, sought to address this predicament. Although RQD had a clear vision for resolving long-standing issues in clearing, custody, and execution services, its ability to penetrate this stagnant market depended heavily on a successful launch. When RQD approached Forefront, we recognized the need for the firm to dazzle the market from the outset, requiring a multifaceted approach.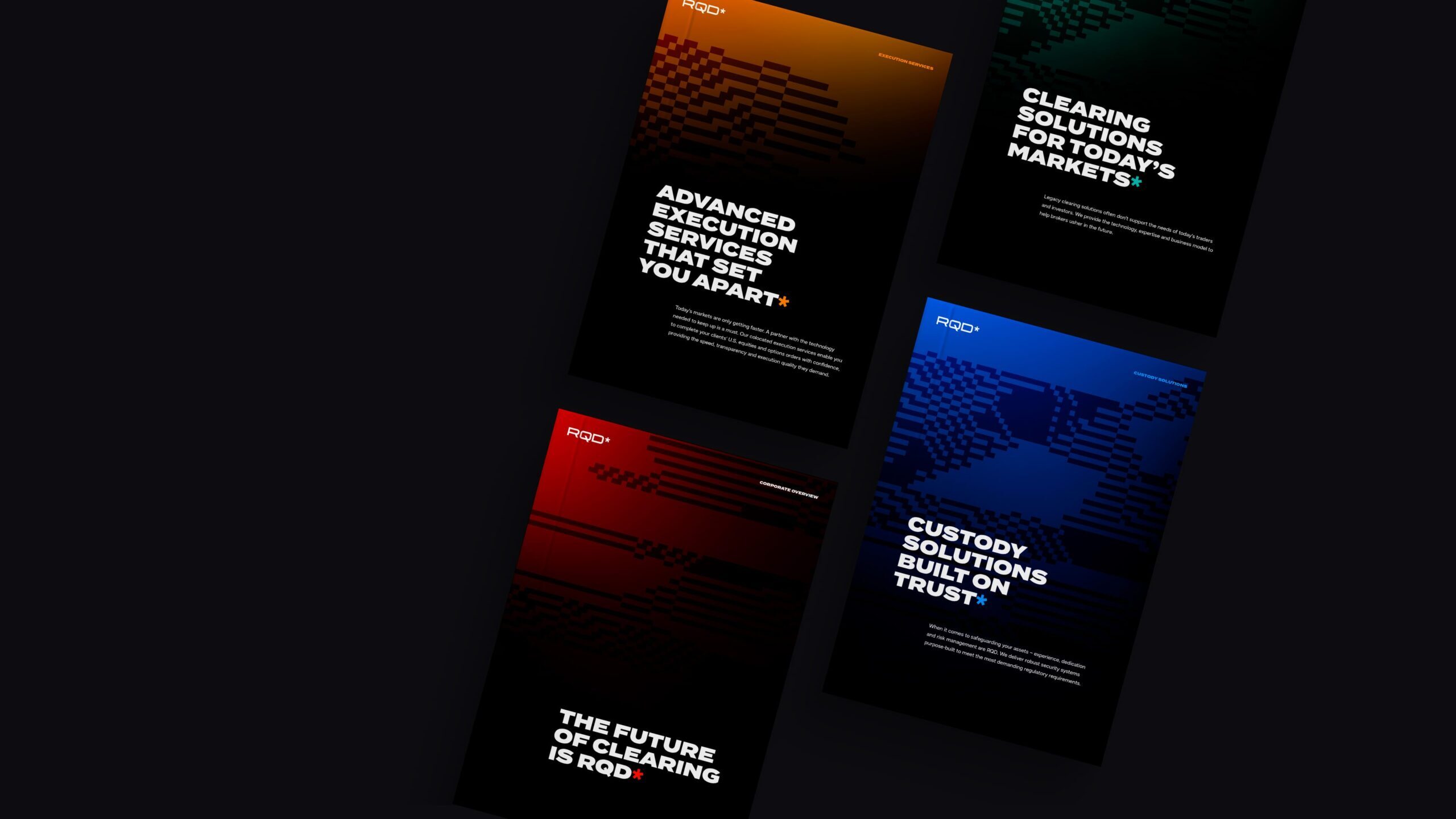 We began the project with an in-depth messaging and positioning exercise, distilling the firm's vision for clearing and technology into talking points designed to differentiate and enlighten. One of the first tasks was to establish a new name for the firm, which still bore the name of its original parent company. We embarked on a comprehensive naming exercise guided by our key messages, proposing a wide variety of options. After narrowing down the list, the name RQD stood out. It resonated on multiple levels, not just because clearing is a required step in the trade lifecycle, but also because the firm offered the necessary speed, accuracy, and expertise. To enhance its impact, we added an asterisk – indicating a required form field – to the logo.
With the new messaging and the name RQD in hand, we started collaborating on the next set of deliverables to prepare for launch. The most labor-intensive task was designing a new website that reflected the firm's values, incorporating abstract yet ownable patterns and striking gradients. This involved strategic use of asterisks in both copy and design, creating an instantly recognizable identity that tied back to the firm's name. As the website took shape, we reached the final stages before the launch. This involved creating a pitch deck and sales sheets based on RQD's new brand, holding several media/presentation training sessions with senior executives for consistency and preparedness, and drafting a compelling press release. When launch day arrived, RQD had all the tools necessary to introduce itself to the world, with just the right look, tone, and industry validation.